The proliferation of Microsoft Teams in the workplace has really skyrocketed since the new remote workforce has come into place over the last year. That's in part because Teams, as a collaboration tool, was either already available to organizations using Microsoft 365 or it was quite affordable to quickly add on to their communications toolkit when COVID hit.
This especially helped those organizations with dated phone equipment, whether it's an older VoIP-based or even older non-VoIP-based phone equipment. Many of these systems have no way to support a remote workforce
. These folks may not have been able to easily extend their premise-based or older IP phone system to accommodate a remote workforce. Now Microsoft Teams has taken over at least some of the communication functionality for them. Namely chat , virtual meetings, and calling to other Teams users within their organization.
Making Phone Calls to non-Teams Users
It's possible and ultimately quite easy to add telephony to Microsoft Teams, but there are some costs and some considerations to enable that functionality.
If you're going to be exploring Microsoft Teams as a cloud phone system replacement there are basically three ways that you can enable the PSTN calling elements.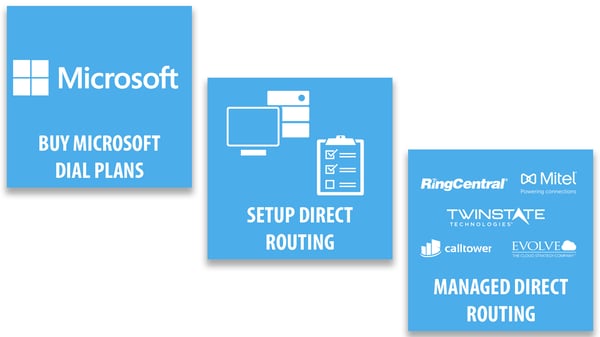 Option 1: Buy Microsoft Dial Plans
The first option to voice-enable Microsoft Teams is going right to Microsoft in buy your dial plans. This comes with licensing costs and some other considerations.
How Microsoft Licensing Works:
For purposes of Teams, whether you have an M365 E3 or just Office 365 E3 license, you will have access to the Microsoft Teams application. Now, in order to turn Teams into a softphone that your business can use to make and receive phone calls, you will need to purchase a phone license.

Think of the phone license as turning Teams into a car. You have the car, but now you need gas to make the car go. That's where calling plans come in.

Again, you can buy calling plans directly from Microsoft. They have three different options, starting at a list price of $8 for domestic calling with 1200 pooled minutes of calling for all your users. For $12 you can upgrade from 1200 pooled minutes to 3000 pooled minutes. Finally, if you want to spend a little bit more, for $24 you can get 3000 minutes of pooled domestic calling and 600 minutes of pooled international calling.
Limitations with Microsoft Calling Plans:
Anyone looking at Microsoft Teams should do their homework, as they would any technology decision,
to make sure that the feature and functionality available within Teams matches what they're accustomed to using with their current phone system. For some users, it may not address all of their telephony needs.

Further, when you crack open Microsoft's online service level agreement, you might be disappointed to see that the SLA is limited to three nines (99.9%) for both the Teams application and any Teams desk phones. The SLA is worded in a way that implies it is only applicable in situations where the end-user is using a wired connection and a Teams certified desk phone. This raises a question as to what the SLA covers for users who are using just the softphone and a headset as your author does daily.
The biggest consideration when going all-in with Microsoft is -- who will handle technical issues for you when something goes wrong? There's no toll-free number for you to call with Microsoft Teams. You can't submit email tickets. You're left scrounging through community threads to find an answer. If you plan on going all-in with Microsoft you really need to be certain that you've got the staff to handle number porting and dial plans or find a trusted partner that can handle it.
Option 2: Do It Yourself Direct Routing
We're not seeing a whole lot of demand for the DIY option so I won't go into great depth here but just know that it is a path that's available to you. If you choose the DIY approach to voice-enable Teams, there are capital expenses involved -- you need to purchase Microsoft Certified session border controllers. Then you have to worry about managing and maintaining that infrastructure and of course you need to be prepared to follow Microsoft documentation to facilitate number porting.
If you're looking at Microsoft Teams and its telephone capabilities with the goal of getting out of owning telephony equipment this model does not adhere to that 100%. You may really want to outsource this entirely.
Option 3: Managed Direct Routing (Cloud PBX)
What you're getting in this model is Microsoft Teams and all of its great native features but you're also getting extra features that Teams doesn't give you with your dial tone being provided by somebody other than Microsoft. In this model, your supplier spins up Microsoft Certified session border controllers in their cloud, so you avoid that capital purchase.
So, what's cool about managed direct routing for Microsoft Teams is when you go to make or receive a phone call in Teams -- the data can go across whatever network connection you have to the Microsoft Cloud. That means you can run it from your home network connection or that fiber connection back at your office.
Microsoft Teams is a great tool and has proved very useful in interoffice communications but if you want to explore making it into a softphone there are additional costs and a variety of ways you can go about it. We're happy to help you evaluate the best avenue for you to go down. Twinstate Technologies works with an expansive community of suppliers that includes the industry big names as well as smaller niche players, to truly give you the best option for your needs. And while Teams has been an amazing tool to use for our company, after further evaluation with us, you might find that it's not the best tool for your company.
Twinstate consultants can help you successfully deploy Telephony for Microsoft Teams. If you have any questions, comments, or feedback reach out to us at