When you dial 9-1-1 you expect help will be on the way, but that's not the case on many phone systems and the results can be tragic. At many establishments like hospitals, offices, schools, and hotels you have to dial 9 before you can dial out. This prefix can have deadly results when in the panic of a crisis victims' forget to dial 9-9-1-1 and their calls for help go unanswered.
The family of Kari Dunn, a murder victim who was unable to connect with emergency responders because the hotel she was staying at required a prefix for dialing, has pushed the FCC to make a simple change. Allow any device, anywhere, at any time to reach emergency service when 9-1-1 is dialed.
Kari's Law Explained
In 2019 the Federal Communication Commission (FCC) adopted Kari's Law, requiring all multi-line telephone systems (MLTS) -- also known as PBX -- in public or private buildings to be pre-configured so that a phone user may directly dial 911 without having to dial a prefix such as 9 to reach an outside line.
The law also aims to ensure that help is sent precisely where it's needed and notifying designated personnel of the emergency. Kari's law mandates that all PBX systems must be programmed to provide notification to designated personnel such as a front desk agent or security staff at the facility when a 9-1-1 call is made. These alerts are not meant to replace the first responders, it is merely a way to initiate and receive any assistance from the designated people while the first responders are on the way.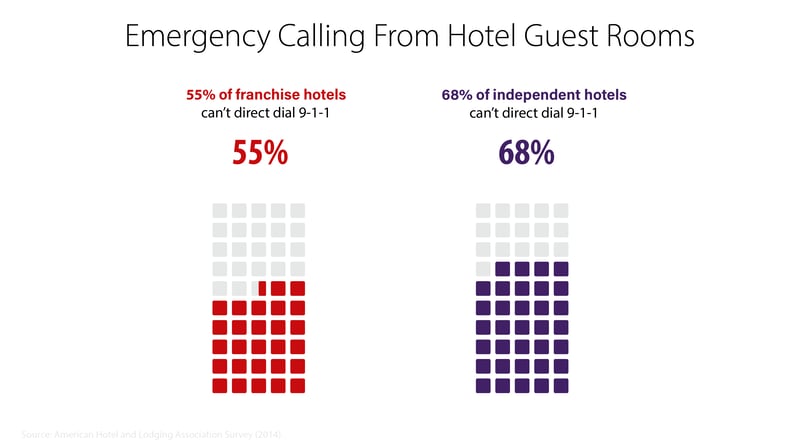 Prior to Kari's law passing, the American Hotel and Lodging Association conducted a survey and found that just 45% of franchised hotels and 32% of independent hotels allowed direct 9-1-1 dialing, highlighting the need for such legislation.
Kari's Law FCC Notification Requirement
The FCC's rules also create a notification requirement of Kari's Law, intended to first responders help first responders enter buildings easier. When a 9-1-1 call is placed on an MLTS, the system needs to be set up to notify a central location on-site or off-site where someone will see or hear the alert. These notifications can include large on-screen messages with audible alerts for security desk computers, text messages for smartphones, or email to administrators, for example.
At the bare minimum, these notification are required to include the following:
That a 911 call has just been placed
A valid callback number
Information about the caller's location that the MLTS conveys to the public safety answering point (PSAP) with the call to 911; provided, however, that the notification does not have to include a callback number or location information if it is technically infeasible to provide this information. (47 CFR § 9.3.)
Kari's Law Penalties
Kari's Law compliance needs to be taken seriously. Not only is there a real human cost associated with your failure to comply but there is a substantial financial cost if the FCC finds you to be non-compliant. Penalties for entities that do not comply with Kari's Law include:
Fines up to $10,000 as well other penalties
Daily fines for each day you are found to be not in compliance
Burdensome civil and litigation costs when a tragedy occurs on your watch
Twinstate Technologies can help you evaluate your options and determine what you need to do to get compliant. We understand calling 9-1-1 successfully is a critical communication feature and our portfolio of cloud telephony systems are in compliance with Kari's Law. Get up and running with real-time 911 alerts in the form of SMS, email, calls, and overhead speaker notifications with mass notification systems.