Business email has made workplace communication efficient and convenient for everyone. While this has boosted the productivity of workers, it has also made hackers jobs easier. The efficiency of email makes it the channel of choice for malware distribution. Through social engineering, hackers bait users into clicking links and downloading attachments that are laced with malware.
So, how can you ensure you have a secure email inbox? Keep reading to learn our email security best practices.
What is email security?
Email security is the techniques and protocols that are in place to keep email communications secure against compromise, loss, or unauthorized access.
Email security solutions scan all emails that come in at your gateway (the external perimeter of your email system) for signs of impersonation, malware, bad URL's, and URL redirects.
Recently we've been responding to incidents around our region where an individual within an organization is attacked via email. As a result of the attack, the individual unknowingly introduces malware to their organization's network. While these organizations have security systems, anti-virus, and firewalls in place they still can be compromised by their end users clicking a malicious link or downloading an infected attachment in an email.
---
---
An email compromise can do more damage than just inflicting financial losses. It can also ruin hard-earned reputations. Some of the recent incidents we've seen involve embarrassing actions. One email account that was compromised began sending very inappropriate messages to all the contacts (including officials in D.C.) connected to that organization's email address book. Another compromised email account began sending malware to all the contacts connected to its address book.
It takes years to build trust with your clients. Sending your client an email laced with malware that infects their network could put an end to that relationship.
To protect your network environment, your reputation, and your assets that live on your network implement an email security solution as an additional layer of security.
Email Security Best Practices: 4 Tips For Business Email End Users
1.) Never download attachments or click links sent to you by unknown senders.
Exercise caution when it comes to links and attachments sent to you via email.
While it's a common practice for us to send legitimate attachments and links to each other via email, hackers often disguise malware within links and attachments. When dealing with any content sent to you from an unknown party, tread carefully.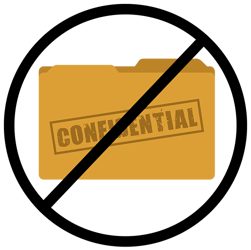 2.) Minimize the amount of sensitive information that you send over email.
Data from your emails are stored in files on your device or in the cloud, and programs exist that can access those files and even read the attachments. If the data from your emails include sensitive information, then it is at heightened risk of being exposed by one of these programs.
3.) Always use a VPN to access your company email from personal devices.
Security issues like Wi-Fi spoofing make utilizing a VPN essential, especially when using public Wi-Fi. When using a VPN nothing appears different to you, the front end remains unchanged. The magic of VPNs happens on the back end where it creates an encrypted tunnel for your data to flow through. The encryption through VPNs prevents prying eyes from scalping your information as it flows over a public network.
4.) Move to a cloud-based email to keep communication channels open during a ransomware attack.
When ransomware crippled global aluminum giant, Norsk Hydro, the company was able to remain in contact with their clients, the press, and each other using their cloud-based email. Fortunately for Hydro, the company had moved all of their email to Office 365 cloud hosting awhile back.

---
If you would like to learn more about the solutions above, schedule a call with a sales rep and we'll be happy to discuss the best solutions for your organization.