Whether you've just started a small business and are looking for your first internet provider or you're an established company looking for the best ISP to help you continue to grow, one thing is certain -- there's no shortage of options out there. With so many choices, it can be hard to see which providers offer real value and find the right ISP for you.
With so much competition in the market -- from large national communications companies and smaller regional phone and internet providers -- each company is marketing heavily to win your business for broadband service. Before you start shopping around for business internet providers near you, it is a good idea to make a list of the key features that are need-to-haves from an internet service provider for your company.
Choosing an ISP: Your Questions and Criteria
Does your business need to regularly download documents, operate sales and collaboration software, make VoIP calls, or stream content? If so, you're a part of an explosion in demand for increased bandwidth that we have seen in recent years and speed is a likely a top priority for your connection. If you're evaluating ISPs in your area, you may be thinking about other factors as well, like cost or reliability guarantees. But there are a few questions you should ask yourself before you make your final decision.
What are your commercial internet speed requirements?
Finding the sweet spot for your business's internet bandwidth comes down to balancing the number of users you have and the weight of data they will be uploading and downloading. A small company with just one or two employees working heavy files all day could actually require much higher internet speeds than a large company with fifty employees who mainly just exchange emails. Let's take a look at the numbers.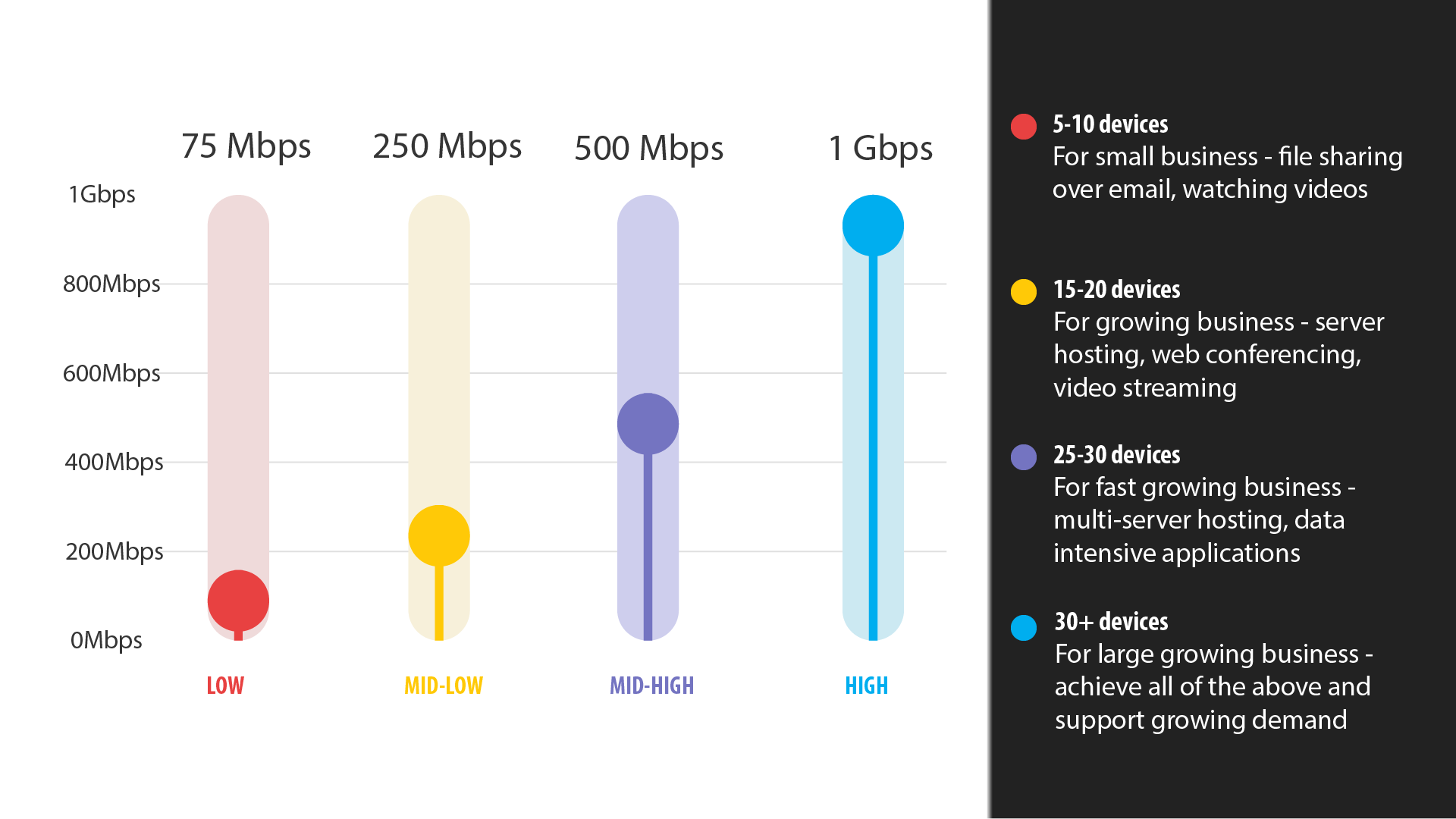 15-25 Mbps: A small company with one or two workers could use basic internet functions like web browsing, emailing, and sharing of small files at these speeds.
25-50 Mbps: A small business with three to five employees could share larger files more easily, comfortable place VoIP calls, and participate in video conferences at these speeds.
50-75 Mbps: A small office with up to seven people could collaborate online with fewer hiccups and utilize faster data backup speeds and file transfers.
75-100 Mbps: A company with ten to twelve workers could support audio and video streaming and heavy wifi usage at these speeds.
100-150 Mbps: A growing business could support web server hosting, e-commerce, and heavy data usage at these speeds.
150-500 Mbps: At these speeds, a small business can support everything listed above as well as comfortably support the addition of new employees.
What's the difference between residential and business internet service?
When you're finding an internet provider for your company, you'll likely start to notice that residential internet packages are less expensive than business internet packages. If residential plans are cheaper than business internet plans near you, then you're probably thinking about saving a few bucks and selecting the residential option. Before you decide, let's explore the differences between the two services.
Your company likely has much greater data demands and upload speed requirements than a typical residential household. ISPs have created business internet services to address your heightened needs. The business connections are often provided much stronger security options due to the large stream of sensitive information flowing through a business each day. When reading reviews of ISPs, remember that the business clients often have much different experiences than residential customers. Be sure to find out how business clients are serviced, not just residential subscribers.
What connections are available from ISP's in your area?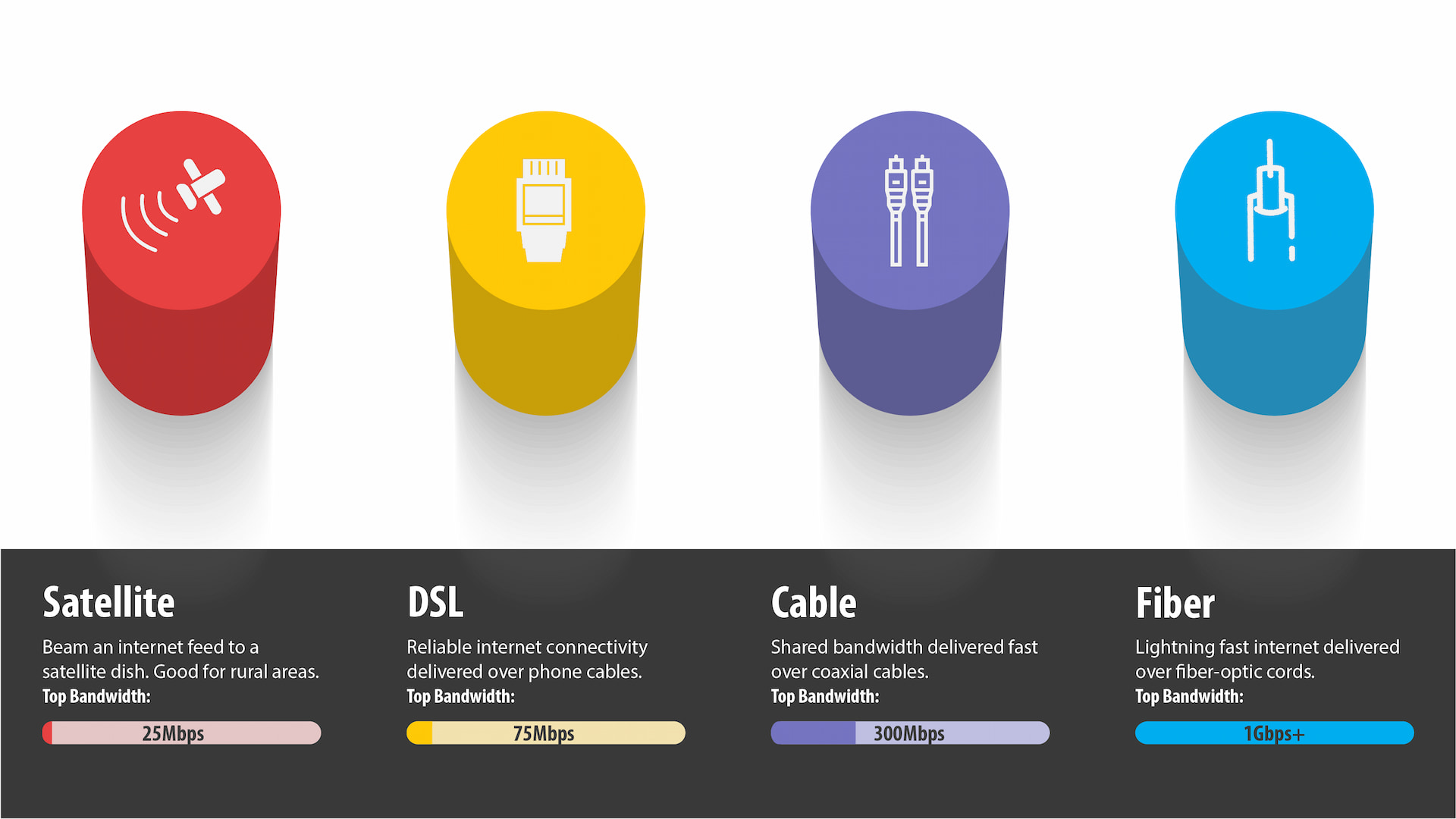 The four most typical types of internet connections are:
Fiber: Fiber-optic internet service is by far the fastest option you have to choose from. Fiber internet transmits data as pulsating light across nanoscopic strands of glass for bandwidth above 1 Gbps. However, costs are typically higher and availability may be a limitation for your area, especially if you need rural internet service. If it's available though, fiber is a great connection to choose for your growing business.
Cable: Connectivity delivered over coaxial cables TV lines offer impressive speeds and it's an option available in more markets than fiber. Unfortunately, the bandwidth on a cable connection is shared. If there are many subscribers near you all connecting at once then you might experience slower speeds.
DSL: Digital Subscriber Line (DSL) connections are an upgrade to dial-up connection. A reliable internet connection is delivered over a dedicated telephone line for a stable and consistent experience. DSL is available almost everywhere and is a good option for a small rural business internet plan.
Satellite: The big selling point for satellite internet is that it is available anywhere that has the sky above it. This is great for internet option for rural companies with no other options and off-the grid remote workers. But, that's about it. Satellite internet is much slower than a DSL connection and much less reliable.
Find an internet provider who delivers more than just a connection
As you've probably come to realize, when you're choosing your business internet service, every provider is a little different. Look for an ISP near you that offers more than just a connection to the web. Find an ISP who goes the extra mile. Consider these factors:
Bundles: If you've ever purchased an internet plan for your home, then you've likely encountered bundled packages from an ISP. Typically they will try to bundle television and internet packages for residential subscribers. They take a similar approach for business internet plans. If you have VoIP needs, it can be to your advantage to find a phone and internet service provider for your business. Managed Service Provides, like Twinstate Technologies, can manage your voice and internet needs as well as provide additional communications infrastructure like SIP trunks.
Reliability: Business today is largely dependent on having a stable internet connection and you need a provider who you can count on. Make sure to check on the reputation of each provider you evaluate. What is their record like in the industry? How are they rated in independent customer surveys?
Static IP address: The IP address is what allows computers to identify each other online exchange information. They can either be "dynamic," temporary addresses, often used for residential service, or they can be "static," permanent addresses, often used for business plans. Providers usually charge an additional fee for static IP addresses but they do provide critical security and stability for you if you plan on hosting servers, VPNs, or support outside connections for remote workers.
Support: When you experience an outage with your internet service, how quickly can you get someone to assist you? Can you actually speak to a person or will you be stuck talking to a robotic auto-attendant during your crisis? Find a provider that can offer support to you across multiple channels like online support, phone, and chat assistance.
Businesses require fast and dependable internet service from their providers. It's how we stay connected to our clients, suppliers, and colleagues. There's a lot to think about but we've tried to make it a little easier, check out our list of the best business internet providers in your area..
Work with an expert.
For a guided experience, you can work with our experts to find the right plan for you. Tell us about your company, get advice , explore plans, and receive a quote for your internet plan.
Sources:
https://www.business.org/services/internet/how-to-choose-an-internet-service-provider-for-your-business

https://www.highspeedinternet.com/business
https://www.verizon.com/business/resources/internet/which-business-internet-provider-is-best-for-you
https://www.business.org/services/internet/best-business-high-speed-internet-providers